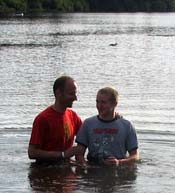 It was early in the morning on July 6, 2007. Thirty-five high school students stood shivering on the shore of Hume Lake in California watching their friend being dipped into the water as he dedicated his life to God. Hours later, some of those same students were pulling their friend from the same water after he hit his head on a shallow sand bar and drowned after being paralyzed from the chest down. With his last breath he said, "Thank you God for loving me."
Jacob Wacker, 17, was revived on shore through CPR, life-flighted to Fresno Community Hospital and underwent surgery on the broken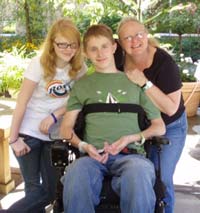 vertebrae of his neck that were shattered upon impact. His spinal cord, although traumatized, remained undamaged. However, the cumulative effect has remained: paralysis from the mid chest region down. With the odds of recovery slim, Jacob now faces the ultimate challenge of his life: the quest to one day walk again.
Jacob's story didn't begin that fateful Friday morning, however. The real story of Jacob's life has always been defined in his passion for music (guitar and bass); his active outdoor pursuits, such as lacrosse and long boarding; his creativity, particularly with pottery; his love for animals and his commitment to family and friends. This accident does not re-define him; it only shapes who he is today. Jacob has always been, as one family friend put it, "a little ray of sunshine that just breezes in and brightens the room." Those who come into contact with this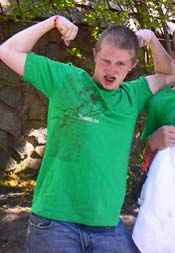 17-year-old often comment on his likeability, his humor and his kind heart.
Throughout this ordeal, Jacob has certainly had his ups and downs, but, overwhelmingly we have seen this remarkable young man have a deep sense that he now has a special purpose here on earth. As his parents have said, "We see the strength of the Almighty in his eyes." Those same eyes glow with a joy and a hope that is present despite his circumstances. It is a testimony to all who meet him that his faith and his hope to walk again lay in the hands of his Creator God.