Each song on this CD is a result of God intersecting our lives with his love. The effect is always overwhelming and inspiring. It heals our broken places and provides hope in the dark corners of our lives. Click on any song below to read why the song was written or chosen for this album, to hear an audio clip of each song or to read the lyrics.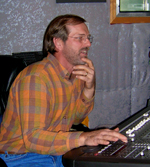 A Few Words From the Producer
Sometimes God puts something in your path that cries out to your heart to the point that you cannot ignore it. Such was the case with Jacob Wacker's accident. I found myself waking several times in the middle of the night thinking about Jacob. Here was a wonderful young man, just starting out in life, with so many hopes and dreams. Suddenly everything changed in his world and he was paralyzed from the neck down. I would pray to our almighty God of the universe a prayer of healing. I asked that God would completely heal Jacob and give total mobility to all his limbs again. After all, God can and does perform such miracles. I prayed that this miracle would point to God's great power and compassion for all people in this world. We should continue to pray such prayers for all who need hope and healing. Please take a moment to do that now as you read this – don't wait. I dedicate this CD to Jacob and all those that need the healing touch of our gracious Savior.
Gailen Hegna
Producer